VLZ310, later

2019
Fonte de bronze, fonte d'aluminium, acier inoxidable, acier, tole ondulée, verre et aluminium, silicone
VLZ310 est une référence de tondeuse à gazon qui, au début des années 2000, promettait une nouvelle ère de maniabilité et de précision aux consommateurs rêvant d'un bonheur à la "Home and Garden" depuis leur pavillon de banlieue. En 2004, cette référence avait donné son nom à une sculpture [1]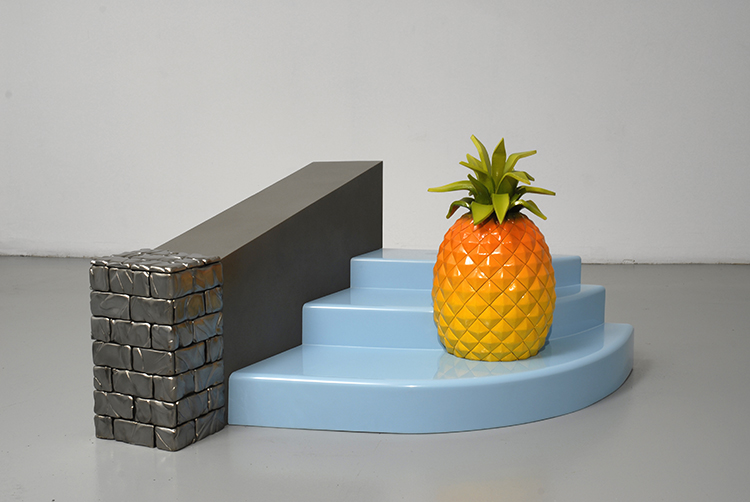 où l'essentiel de cette idée néolibérale du jardin se condensait et se révélait comme objet de désir et symbole de status. Des marches bleues, évoquant une piscine, y côtoyaient un muret aux pierres apparentes, et un ananas décoratif mettant en perspective l'histoire des décors de l'ère coloniale portugaise et la circulation des motifs en émanant jusque dans les classes populaires. VLZ310, later suggère ici à nouveau l'univers du jardin [2]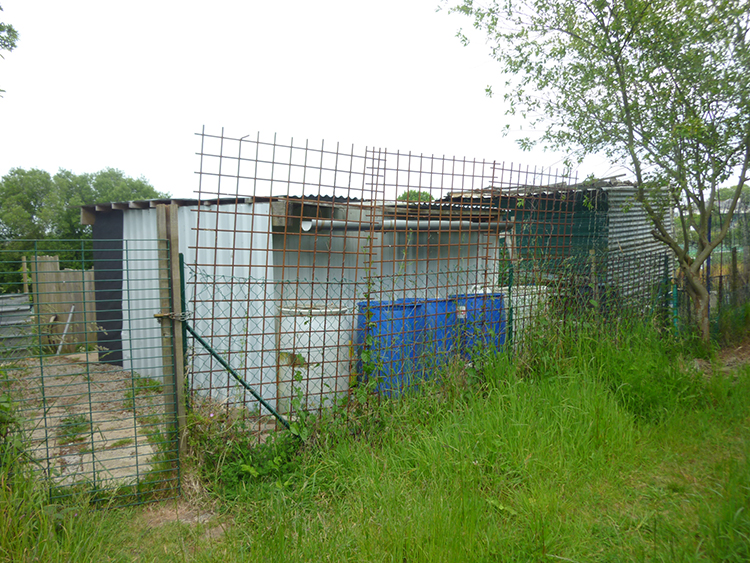 et les implications symboliques, psychologiques ou physiques du concept de maison. Entre abris, transparence et porosité, il ne s'agit plus d'un condensé d'esthétique néolibérale pour des corps sculptés par l'aquagym, mais d'une ambiguïté formelle ouvrant vers des espaces de liberté communautaire, des jardins ouvrier, des pratiques alternatives et des imaginaires collectifs. Les courbes sont souples, les matériaux se rencontrent, [3]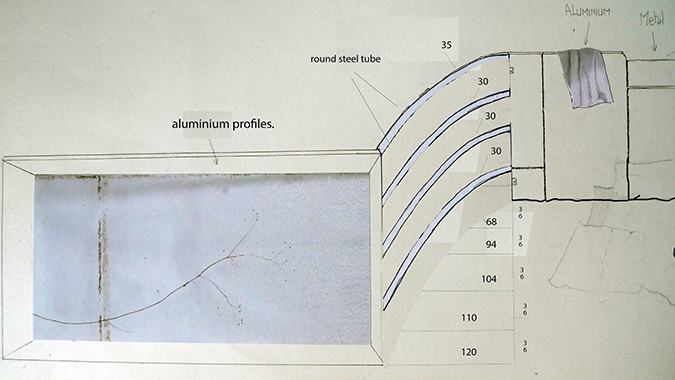 se réinventent, et le corps, certes absent, laisse deviner ses gestes à travers la présence de vêtements de travail négligemment posés là. Un passage du labeur à l'heure de la pause; et une présence du désir au corps des systèmes de production de valeurs et de classes.
VLZ310 refers to a lawn mower model, which in the early 2000, was carrying the promise of a new era of handling ability and precision to consumers dreaming of a "Home and Garden" style of suburban happiness. In 2004, this reference was borrowed by Wilfrid Almendra to title a sculpture condensing the essential elements of this neoliberal vision of the garden, in an object holding out hopes for social status. The perfectly sleek blue steps of a swimming pool stood alongside a sharp stone low wall, and a decorative pineapple, connecting the historical motifs of colonial Portuguese decors to the contemporary middle class. Here again,VLZ310 later (2019) suggests a garden environment as well as the symbolic, psychological, and material implications encapsulated by our desires for dwelling. Looking like a gate, this sculpture however stands ambiguously in-between an apparence of safety, porosity, and transparency, away from the realm of aquagym sculpted bodies. Its serpentine lines, as well as the collage of mundane and precious materials and motives, recalls the aesthetic of community gardens, where new forms of being and belonging are collectively carved through alternative practices and imagination. Materials and shapes are connecting and reinventing themselves sensually, while the presence of an invisible, undressed, body is revealed by a few pieces of work clothes negligently set down. VLZ310 takes the viewers "later", in these moments of transition from labour to breaks, where desire is still very much at the heart of the systems producing values and classes.